The Perfect Spring Cleaning Checklist: Get Your House Ready for Summer in 17 Steps
Spring's sunny days and warm winds are good for the soul after a long winter. The only downside?
All that sunshine reveals your dusty furniture, peeling paint, and chock-full gutters. If you haven't seen the mess yet, here are a few signs you may need to consider a spring cleaning.
We built a Spring Cleaning Checklist to save you time so you can get back to family, little league games, and spending time with your latest book and a cup of tea.
INSIDE YOUR HOME
We spend quite a bit of time indoors, so let's start here.
THE REFRIGERATOR
Sometimes, your refrigerator can stop working. But don't worry! This is very common, especially on a hot day.
Unplug: Turn your refrigerator off at the circuit breaker. Remove the cover panel for a better view of the coils and cooling fins.

Clean: With the help of a long narrow nozzle on your vacuum and a refrigerator coil brush, remove all the dust and debris. Use the brush and slide it between the coils. Use a rag to wipe dust from surfaces.

Cover: Put the cover back on, and then, plug your refrigerator electrical cord back in.
*Doing this periodically can help you extend the life of your fridge.
2. THE LAUNDRY ROOM
Don't let your clothes wear you down! Use these to turn your laundry room into a victory dance.
Baskets: Use baskets to store stray linen or towels

Drying Rack: Fold-out drying rack for space saving and energy saving

Vents: Clean the dryer vents

Maintain: Pull out, vacuum, and clean the washer and dryer with a brush or paper towel to remove the dirt and dust
*Read more hacks for your laundry room from HGTV
3. THE DISHWASHER
Isn't it ironic that the dishwashing tool also needs to be cleaned itself? Stuff like grease and food remnants, among other things, pass through this appliance, providing a breeding ground for germs and reducing the efficiency of dishwashers.
Clear the drain: Remove the bottom dish rack.You have to check the dishwasher drain to remove any gunk or food caught there.
Vinegar wash: On the upper rack of the machine, place a cup of white vinegar in a dishwasher-safe container. Then, run the dishwasher through a hot-water cycle which will wash away all the grease and grime in there.
Baking soda rinse: This is the last step you should follow. You just need to sprinkle one cup of baking soda across the bottom of the dishwasher. Start to run a short hot-water cycle again, and it should be ready to go!
4. THE WASHROOM
Having a tidy washroom is critical for a good start and finish to your day.
Organize: As you get ready for work and finish brushing and bathing, keep the soaps in the soap-case and other stuff in place. There must be 'A place for everything and everything must be at its place'.

Sink: Wipe the wet floor and wipe off the residual water from the sink.

Shower: When you take a shower, fill a dish wand to clean the glass and handles as you go. Remove grime blockage by filling a zip loc with white vinager and securing it around the head with a rubber band overnight.

Laundry: Keep your clothes aside for laundry in a basket. The whole routine doesn't take much time but works wonders to leave your washroom clean and tidy.
5. THE KITCHEN
Lots of food and conversation gets shared here, but the kitchen often needs some TLC.
Floor: Food scraps, leftovers, and late indulgences find themselves dirtying the floor. A quick sweep, Swiffer, or mop will do the trick.

Table Wheels: Clean under your kitchen table legs or fit them with swivel casters to move the table out of the way.

The Oven: Mix paste of baking soda and water. Coat oven with paste to stand overnight. Clean up using a spatula and wet sponge.

Pots & Pans: Use salt scrub to clean your pans and apply white vinegar for stainless steel pots
6. DUSTING
Dusting can be fun, if you throw on some headphones and work on some new dance moves while you dust.
Wipe: Use gloves to combine water and vinegar in a hand towel to wipe down the slats between your blinds, your countertops, and anywhere you see dust collecting!

Telescopic Arm Duster: These arms whizz around furniture, lights, shelves and more in no time at all!

Want more dusting tips? Visit Mum'sMakeLists.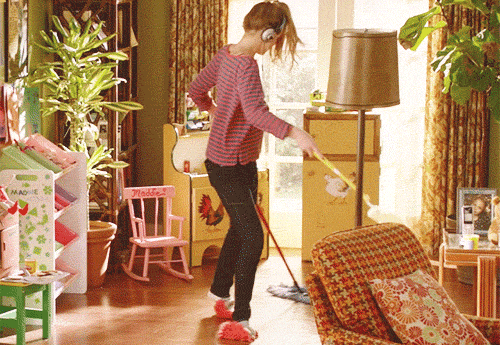 OUTSIDE YOUR HOME
When you look outside your back window after winter, it can look like a jungle . By checking these off, you'll bring your grounds back to being civilized.
7. LEAVES
Rake up whatever leaves survived the winter

Lay down some mulch for your flower beds to protect plants from weeds and drought.
8. FAUCETS
Turn the water back on and check for any damage. If you plan on hiring a lawn care service to maintain your property and mow your lawn, now is the time.
9. TREES
If your property has trees, have an arborist check their health. A dying tree can pose a threat to you, your family, and your neighbours.
10. LAWNS & HEDGES
Reseed your lawn

Start planting your garden

Fertilize the lawn later in the spring when the grass gets greener and flowers begin to bloom.
11. LAWNMOWER
Drain the fuel and clean the parts and motor before storing your snow blower for the summer and switching over to your lawnmower

Repeat for your lawnmower before the grass gets out of control. Send it out for a tuneup annually to sharpen blades, replace spark plug and other maintenance.
12. INSPECT
Take a stroll around your house

Look at the driveway, walkway, roof, and chimney for wear and cracks, or broken shingles.

*If you found a crack in a your basement foundation or want to check the health of your home, we've partnered with the Canadian Association of Home and Property Inspectors and highly recommend this non-profit for finding an experienced, registered home inspectors.
13. GUTTERS
Grab a ladder

Use gloves and a bucket to unclog your gutters and dispose of the leaves and debris. When it rains, your gutters protect your house from roof leaks by directing the flow of rainwater.

*Be extra careful on that ladder if you're cleaning your gutters yourself - more than 1,000 people fall from ladders everyday in North America, according to the Canadian OHS. You can always hire a professional gutter cleaner if needed.
14. PAINT
Use a fresh coat or touch up paint where needed to protect your exterior from rot or water damage.

If you plan to hire a professional, schedule the job in the spring so the work gets done by the end of the summer.
15. GIVE YOUR HOUSE A BATH
Remove the storm windows and wash out the grime, inside and out.

Use plastic sheeting to cover the ground outside and close the windows

You likely won't need a power washer and your garden hose should be fine

Start washing but use detergent sparingly as plants can be damaged

*This might be done faster and safer by a power washing professional
16. PATIO OR DECK
Sweep the surface clean and examine deck.

Look for any wood that is cracked or loose nails sticking out.
Wet the deck using a garden hose

Spray it with water and cleaning solution, waiting for 10 minutes

Rinse it off

Let the deck dry for a couple days and then stain it.
17. POOL
If you own a pool, you can open it again for summer.

Treat the water

Check or replace the filters and valves. You also have the option of hiring a pool serviceman to get it ready for you
DONE!
After using this checklist, you should have a clean home, inside and out!

If you really hate cleaning, you can always use Jobjar's skilled doer. Easily post the jobs you want done and you'll be paired up with an expert who can remove the fuss.
Post Your To-Do List here.
You'll be glad that you decided to get a Skilled Doer.
Please reload